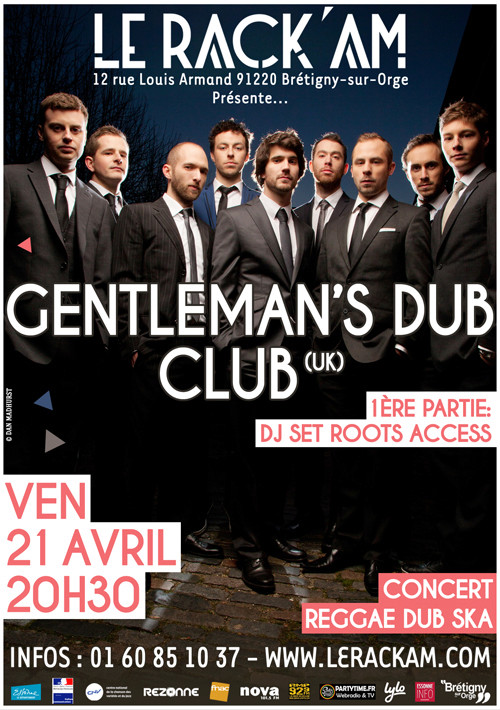 Vendredi 21 avril - 20h30
12€ > 11€ > 10€ > 7,50€
Reggae Dub Ska

GENTLEMAN'S DUB CLUB (UK)
Pour tous les amoureux de The Skints, Hollie Cook, Easy Star All Stars...

RDV au Rack'am avec le groupe anglais qui enflamme les scènes européennes depuis sa formation à Leeds en 2006 : GENTLEMAN'S DUB CLUB ! La musique de ce club est électronique, basée dans le dub mais pas seulement… On y retrouve le ska et ce reggae roots ayant séduit le producteur Prince Fatty, qui les accueillera dans son studio pour enregistrer une partie de leur nouvel album « The Big Smoke » (signé sur le prestigieux label Easy Star Records).
En se produisant dans des festivals comme Glastonbury en plus d'avoir ouvert pour des pointures mondiales telles que The Wailers, The Streets, U-Roy ou encore Madness, Gentleman's Dub Club a acquis la réputation d'être l'un des groupes de dub les plus énergiques et classes de la scène anglaise...

1ère partie : Warm up Roots Access (Radio 1000 Pattes) 1er Round
L'équipe de Roots Access vous propose de redécouvrir le reggae des années 70 à grands renforts de vinyles pour une immersion dans les Sound Systems roots jamaïcains et anglais !

INFOS PRATIQUES

Le Rack'am, 12 rue Louis Armand 91220 Brétigny-sur-Orge
Nous contacter : 01 60 85 10 37 (bureau) – 01 60 84 54 47 (salle)
http://bit.ly/RackGDC