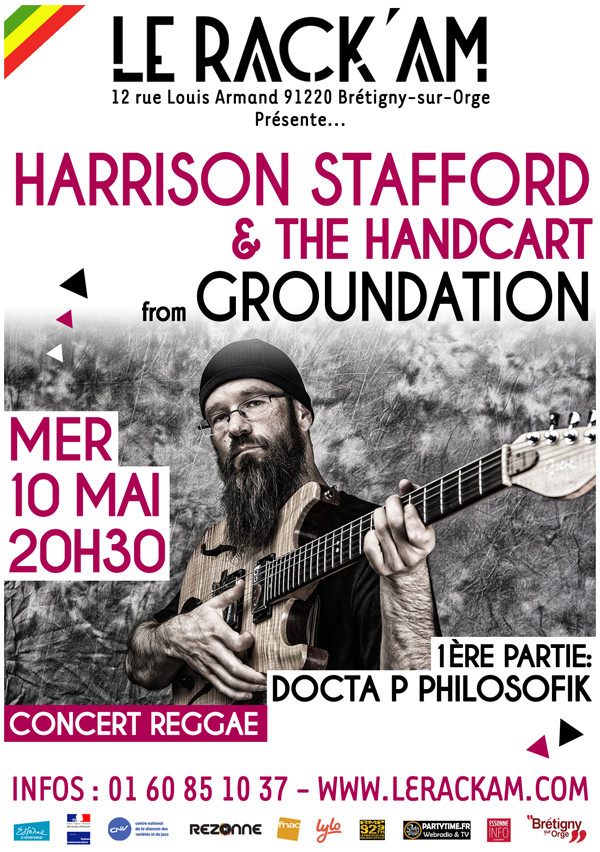 Mercredi 10 mai à 20h30
12€ > 11€ > 10€ > 7,50€
Reggae

HARRISON STAFFORD & THE HANDCART (USA)
Le mythique chanteur & leader de GROUNDATION, The Professor, inaugure sa tournée européenne au Rack'am !

Avec 10 albums studios enregistrés et des tournées mondiales à n'en plus finir de son groupe GROUNDATION, Harrison Stafford est devenu un membre incontournable de la scène musicale internationale. Il a en effet croisé des artistes majeurs comme Sting, Snoop Dogg, The Roots, Ziggy Marley ou encore Burning Spear. Passionné par la Jamaïque et ses coutumes qu'il enseigne à l'Université en Californie, sa carrière solo débute en 2011 avec « Madness » (Soulbeats Records), un beau témoignage sur l'influence que le reggae peut avoir dans la lutte pour l'égalité des droits.
Harrison Stafford revient sur le devant de la scène accompagné du HandCart Band (musiciens français du légendaire Pablo Moses) pour défendre son opus « One Dance », nouvel hymne au « Spiritual Roots Reggae » : subtil mélange de reggae roots et de jazz soulignés par un dub envoûtant.

1ère partie : Docta P Philosofik
Du roots au dancehall, en passant par le hip hop, Docta P Philosofik (alias Sir Pancho) joue la carte de l'originalité entre dubplates (versions spéciales de morceaux enregistrés pour le Philosofik Sound) et remix élaborés dans son laboratoire.

INFOS PRATIQUES

Le Rack'am, 12 rue Louis Armand 91220 Brétigny-sur-Orge
Nous contacter : 01 60 85 10 37 (bureau) – 01 60 84 54 47 (salle)
http://bit.ly/PrevHarrS