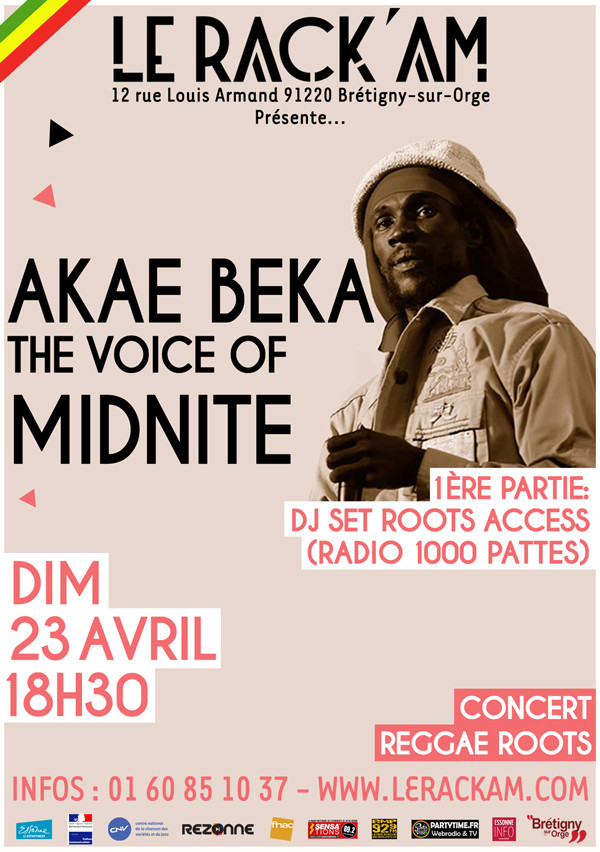 Dimanche 23 avril à 18h30
12€ > 11€ > 10€ > 7,50€
Reggae

AKAE BEKA, THE VOICE OF MIDNITE (USA)
Le groupe emblématique des Îles Vierges est de retour pour une expérience mystique en concert!

Formé en 1989 par les frères Benjamin, MIDNITE prend aujourd'hui une nouvelle forme autour du leader vocal Vaughn et devient AKAE BEKA. Avec une discographie composée de près de 60 albums, Midnite est à considérer comme le groupe de reggae le plus prolifique de ces 20 dernières années. Principalement constitué des membres fondateurs de ce groupe, Akae Beka continue de propager la philosophie Rastafari dans cet esprit roots reggae jamaïcain des années 1970 grâce à des performances live dignes de figurer dans le Guinness Book (3 heures de show ne lui font pas peur) !
Après s'être illustré dans des festivals comme Reggae on the River, Sierra Nevada World Music Festival, Summerjam ou encore le Rototom Sunsplash, le groupe débarque pour une quinzaine de dates en Europe et vous donne rendez-vous pour une performance unique à Brétigny!

1ère partie : Warm Up Roots Access 2ème Round
La team Roots Access sera de retour pour un DJ Set " mystique " qui vous plongera à coup sûr dans l'ambiance du groupe Akae Beka.

INFOS PRATIQUES

Le Rack'am, 12 rue Louis Armand 91220 Brétigny-sur-Orge
Nous contacter : 01 60 85 10 37 (bureau) – 01 60 84 54 47 (salle)
http://bit.ly/PrevAkB